November Bicycles solved a big problem for me: trying to pick gravel bike wheels. Nobody seems to agree on what gravel bikes (or their wheels) really are. The genre/category spans everything from touring to 200-mile offroad races, with a few stops like "road plus" in the middle.
I didn't want wheels that were made for something else. I wanted to buy with complete confidence on that point. When I ran across the blog for November Bicycles, I knew I had the right people.
I don't even remember what that first post was about because I took an immediate deep dive into their blog content and products. I was amazed at the detail and thought they put into the most microscopic minutia of building wheels.
The Current State of Bicycle Wheelbuilding
This is important because machine-built, pre-made wheels are the norm. And some of them work extremely well, like my original Stan's Arch mountain bike wheels and my Ultegra WH-6800 road wheels. Good pre-built wheels have made wheelbuilding a declining-though-not-lost art. Go to a local shop, and not all of them will have someone ready to lace up a custom set of wheels.
They're more likely to push you toward pre-built wheels. Or they might have someone good, but -- a retail bike shop is (to me) not the place to build a quality wheelset. A stream of customers and other demands can turn a build into a stop-start process.
November Bicycles seemed like people who just might listen to what I'm going to do, make recommendations and then assemble them in the manner of Shaolin monks turned bike nerds. I emailed them to introduce myself and my needs:
6'2, 200-ish pounds, likes beer
mostly does weight training
building build a road bike that can do canal paths and gravel, but is still speedy on the road
likes riding events like Tour de Tucson
not so into blingy hubs, somewhat of a cheapskate
First Contact With November Bicycles
Dave from November Bicycles soon replied with a friendly email. He gave me options, asked insightful questions and made some recommendations. He didn't just recommend, though: He told me the "why" behind his suggestions.
In the end, November Bicycles built me a wheelset based on Bitex hubs and Belgian HED+ rims with Wheelsmith spokes and brass nipples. They arrived neatly packed.
After opening the box, I installed a set of 38-c Vittoria Terreno tires. Even without sealant, the tires and rims seated immediately to each other. They showed barely any air leakage as I waited for the rest of my parts to arrive. They didn't PING with the authority I'm used to, but they've seated perfectly. I've since deflated them, put in sealant and re-inflated.
First Ride and Final Thoughts
I've also had my first ride, which was an exercise in happy riding. Is it the November Bicycles wheels? They're definitely part of the whole, and I get the impression that their true worth will reveal themselves over time. That's often the way quality components born of quality labor work. They just keep doing what they do without complaint or undue fuss.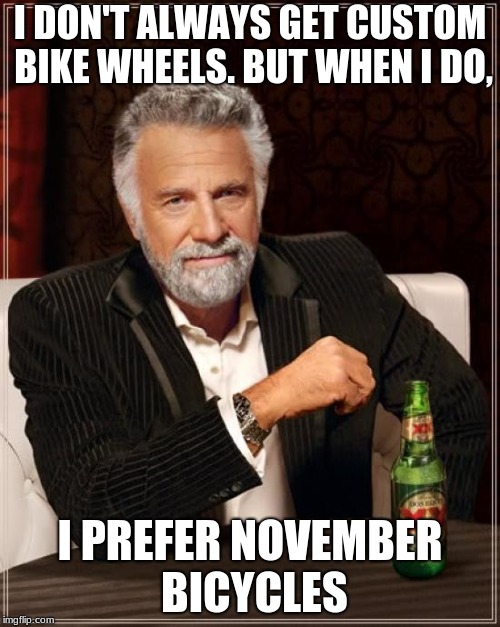 As for the experience of being a November Bicycles customer? I'm largely a local-vore and try really hard to keep my business in Arizona. Most of the new parts on my bike are locally sourced. But the November Bicycles blog showed a depth of thought in the wheelbuilding craft that I don't see from my locals – at least not publicly.
The way November Bicycles shared their knowledge convinced me that I wanted them to build my wheels. That's the way to get my money. Good advertising amuses me. But as much as I love The Most-Interesting Man in the World, I would only drink Dos Equis if I was dying of thirst. Blog posts that show me knowledge and absolute enthusiasm for what you do are the most-effective way to market to me. November Bicycles nailed this.
Consequently, I wound up with a wheelset that is exactly made for me and what I want to do on my gravel bike.
Hungry for more gravel bike talk? Here's my main post about the process of building my new bike. I'll update it with more links as I kick out more content. 
This post just might contain affiliate links. Fear not, they're non-spammy and benign. Hey, I have to keep this thing running somehow!